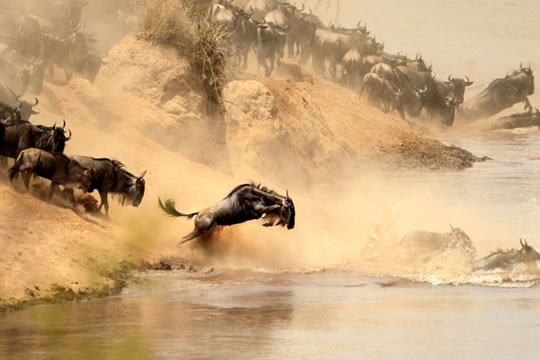 Masai Mara National Reserve stretches over 1510 sq km (938 sq mi) of open rolling grasslands and overlooked by the spectacular Esoit Oloololo (Siria) Escarpment, watered by the Mara River and dominated by an astonishing amount of wildlife. Lions are found in large prides everywhere, and it is not uncommon to see them hunting. Cheetahs and leopards are less visible, but still fairly common. Elephants, buffalos, zebras and hippos also exist in large numbers.
The Masai Mara National Reserve shares a border with Tanzania's Serengeti National Park and is essentially a continuation of this park, forming the Serengeti-Mara ecosystem. Apart from the seasonal wildebeest and zebra migration, game viewing in the Masai Mara National Reserve is excellent year round. Game includes elephant, black rhino, buffalo, plains zebra, hartebeest and big cats. The rivers are home to hippo and crocodiles. 452 species, 53 of which are raptors.
The Wildebeest Migration in Masai Mara
An impressive feature of the Masai Mara National reserve is the annual migration of the Wildebeest, Zebra and gazelle from the plains of the Serengeti that cross the Tanzania border and rivers to reach the Mara lush grassland from late June, hunted by the predators Lion, Hyena and circled by vultures as the journey unfolds. Their dramatic river crossings are a reality for tourists visiting in July-August.