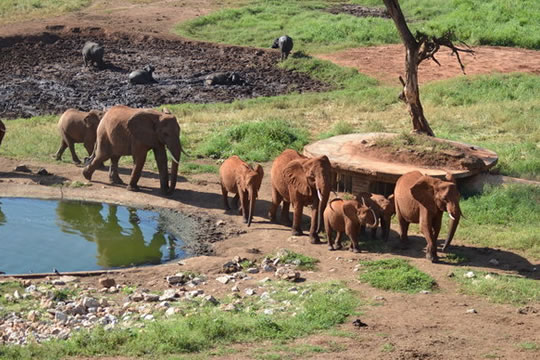 Taita Hills Game Sanctuary is a private game sanctuary separated from the vast Tsavo West only by a road. Animals roam freely between the two areas and in the hills that dot this sanctuary.
Taita Hills Game Sanctuary's landscape consists mainly of plains and woodlands, with typical riverbank vegetation along the water course and is home to over 50 species of mammals and 300 species of birds, wildlife include elephant, lion, oryx, lesser kudu, zebra, impala, dik-dik and a wide variety of smaller animals. Bird life includes the extremely rare Taita Falcon, a bird recorded in early Egyptian hieroglyphics.
A variety of short excursions can be made from the Sanctuary. Towards the Tanzania border lie Lakes Jipe and Chala, the former, home of many water birds, while Lake Chala is the deepest crater lake in Africa.