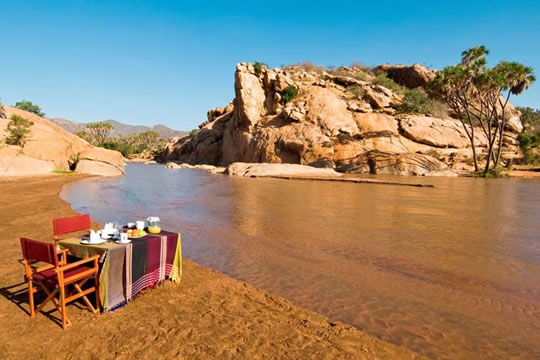 Samburu, Buffalo Springs, and Shaba form a big block of conservation area in the remote Central Northern Kenya. The lifeline of these reserves is the Ewaso Nyiro Ri
Samburu National Reserve adjoins the Buffalo Springs in the south and the Shaba National Reserve to the East. These game reserve are traversed by the Ewaso Nyiro river which meanders slowly between numerous acacia and doum trees, providing life support to the dry-land animals and a home to many crocodiles and Hippos.
Samburu, Shaba and Buffalo Springs National Reserves are located in the dry northern Kenya - a hot and arid area characterized by a parched landscape of hills and plains. The combination of wood and grassland with riverine forest and swamp is home to a wide variety of wildlife
Unique Attraction: The Samburu region is the best place to find several endemic Northern species, including Gerenuk, the Reticulated Giraffe, and Grevy's Zebra, the long horned Beisa Oryx and the Somali Ostrich.
Other animals commonly seen in Samburu, Shaba and Buffalo Springs national reserves include the leopards, cheetahs, elephants, elands, leopards, buffaloes, lions. There are over 100 species of bird, large flocks of Guinea fowls are a common sight.