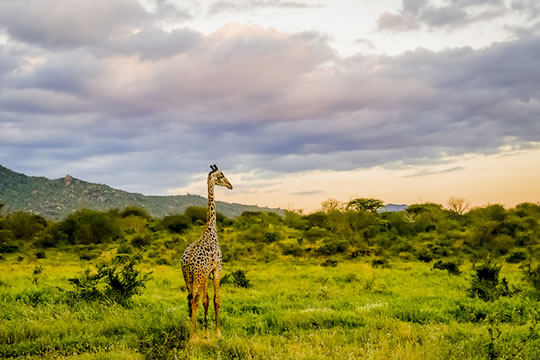 Tsavo West National Park is located on South-Eastern Kenya along the Western side of Mombasa-Nairobi highway. The park's savannah ecosystem comprises of open grasslands, scrublands, and Acacia woodlands, belts of riverine vegetation and rocky ridges. Tsavo West national park is an important historic Monument as a major battleground in World War I where British and German troops battled for supremacy.
It offers tremendous views with diverse habitats ranging from Mountains, River forest, Plains, Lakes and Wooded Grassland.. Major wildlife attractions include All of 'Africa's Big Five' - elephant, rhino, Leopard, Buffalo and Lion, Cheetah, Wild dogs, giraffe, zebra, crocodile, mongoose, hyrax, Dik- dik, Lesser Kudu, and Nocturnal Porcupine. Prolific birdlife features 600 species.
Tsavo West National Park is home to recent Volcanoes, lava flows and caves and is excellent for visitors who enjoy walking, offering a number of nature trails and the opportunity to explore the Chaimu Volcanic Crater. Mzima Spring is a star attraction at Tsavo West National Park, it is a pool of natural spring water with underwater viewing hides for observing Hippos and fish.